Local, Family Owned
Venice Frame Shop
Specializing in museum quality framing and
conservation framing, gifts and art classes
Established in 1982, Creative Framing & Gift Gallery is a family-owned and operated frame shop and gift gallery serving the Venice, Florida area for almost 40 years.  Linda Thompson, an award-winning Certified Picture Framer, together with her son Michael Thompson, specialize in museum quality framing and conservation framing.  From family photos to collectibles, Creative Framing provides custom framing that reflects your personal style and will last for years to come.
In addition to framing, Creative Framing & Gift Gallery features a unique array of gifts and décor made by local artists.  These artists also teach classes to students in the adjoining art studio.
Creativity is our passion!
Linda Thompson, CPF
Owner
Linda earned her degree in Interior Design in 1971, and began in the framing business by working at another local frame shop in 1974.  She and her husband Stan opened Creative Framing in 1982 when their two sons, Scott and Mike, were just 4 and 8 years old.  In 1986, Linda became one of the first framers in Florida to become a certified picture framer (CPF) through testing with the Professional Picture Framers Association.
Throughout the years she has honed her craft, ensuring Creative Framing stays the premier frame shop in Venice.  Linda also has a passion for art, and is an active member of the local artist community, traveling to local art shows to learn new skills and to continue to curate merchandise for her one-of-a-kind gift gallery.  She is also an accomplished artist herself, with her shell pieces winning numerous local awards.  Now, she is excited to have her son Mike joining her as General Manager in the family business.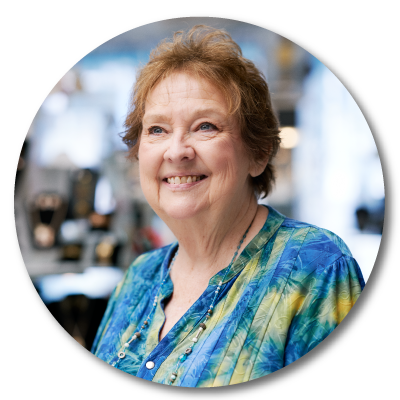 Mike Thompson
General Manager
Mike grew up in the back of the store, learning the family business at a young age.  He moved his family back to the Sarasota area and began working at Creative Framing in 2012.  Before joining the family business, Mike spent more than 6 years with the Upper Deck Company in Las Vegas, specializing in selling authenticated sports memorabilia to national distributor accounts.  Prior to that he managed warehouse distribution and inventory for a large toy manufacturer.  He brings to Creative Framing his extensive background in inventory control, sales and knowledge of sports memorabilia.
Mike earned his Business Management degree from Manatee Community College, and studied Music Performance at the prestigious Berklee College of Music in Boston.  Mike's passions outside of work include playing classic jazz on his saxophone, as well as his amateur bowling career.  Mike resides in Sarasota with his wife Heidi and daughter Makayla.